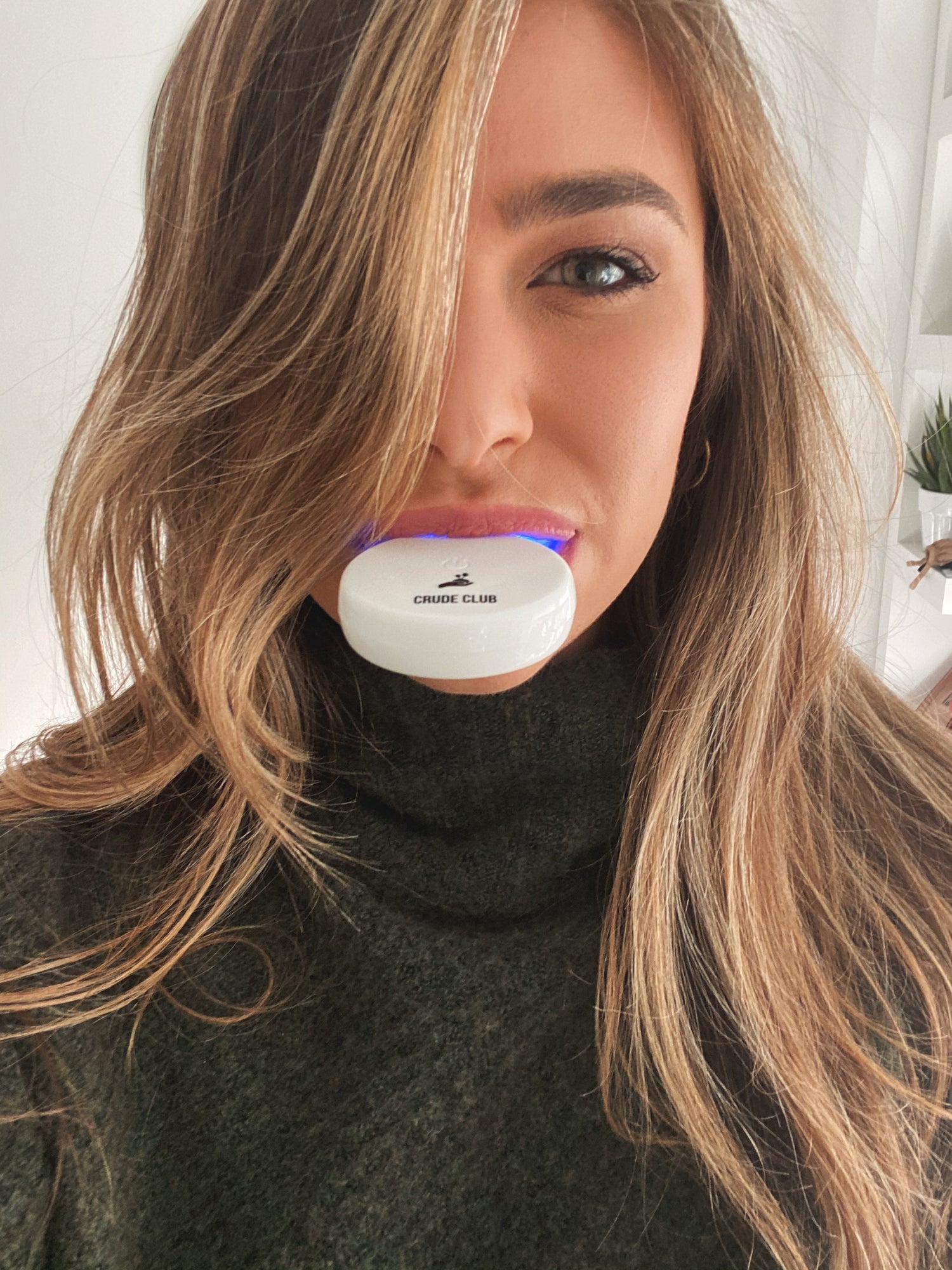 Pearly whites, naturally
Let our natural whitening system enhance your smile at the comfort of your home without any sensitivity
Learn more
GROW YOUR PRACTICE WITH OUR NATURAL PRODUCTS
Essential Whitening Take-Home Kit

The take-home kit consists of 9 consecutive treatments, for just 15 minutes each. Included in the kit are three 35% CP syringes, our universal LED tray, and a charger. Guaranteed results, no sensitivity or pain, and most importantly, no chair time.

Learn More

Essential Whitening Refill Kit

Our bleaching gel contains only natural whitening ingredients in the formula. Take-home gel consists of 35% Carbamide Peroxide and 5% of Potassium Nitrate to help reduce discomfort and sensitivity. Refill kit comes with (3) 3mL syringes which is good for up to 18 treatments.

Learn More

Chairside Kit

We use 44% Carbamide Peroxide with our chairside kit. Patients can expect up to 6 shades brighter results, thanks to our unique formula and advanced LED technology. The kit includes one 35% CP syringe, desensitizing pen, and a charger that the patient will take home for future touch-ups, ensuring a long-lasting, dazzling smile.

Learn More
2 STEPS. 15 MINUTES. 6 SHADES WHITER
Our primary goal has always been to address the major issue in the teeth whitening market: discomfort and sensitivity. Through extensive research and development, we have created a clinically proven solution that eliminates these problems. With our whitening systems, you can achieve a brighter smile without any discomfort or sensitivity, all from the convenience of your own home.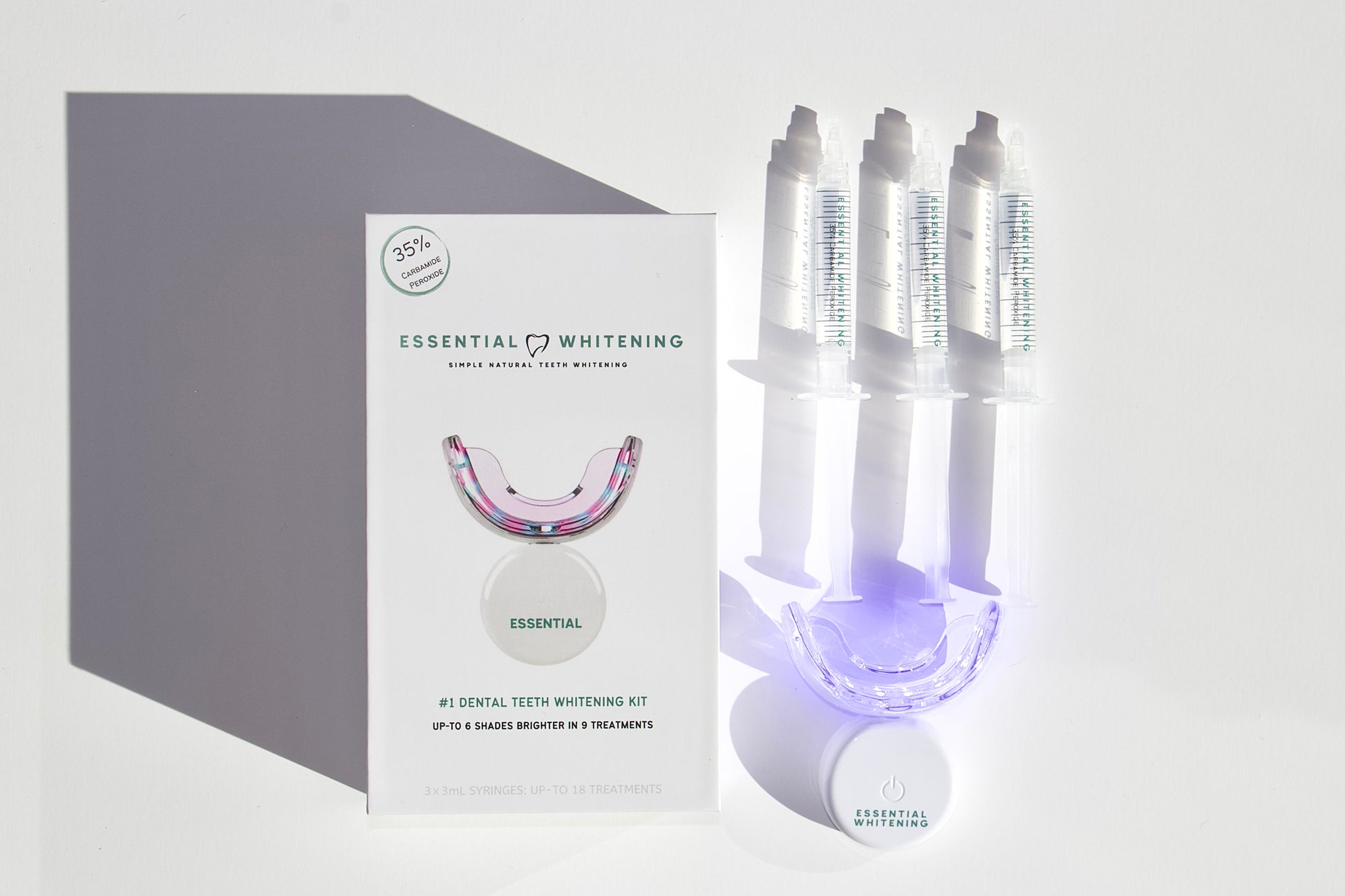 ESSENTIAL TAKE-HOME WHITENING KIT
Our at-home kit includes 9 sessions, each lasting only 15 minutes. The kit comes with three syringes containing 35% Carbamide Peroxide, a universal LED tray, and a charger. You can expect effective results, with no discomfort or sensiti ity, and best of all, no need to visit a dental chair for a custom tray
View full details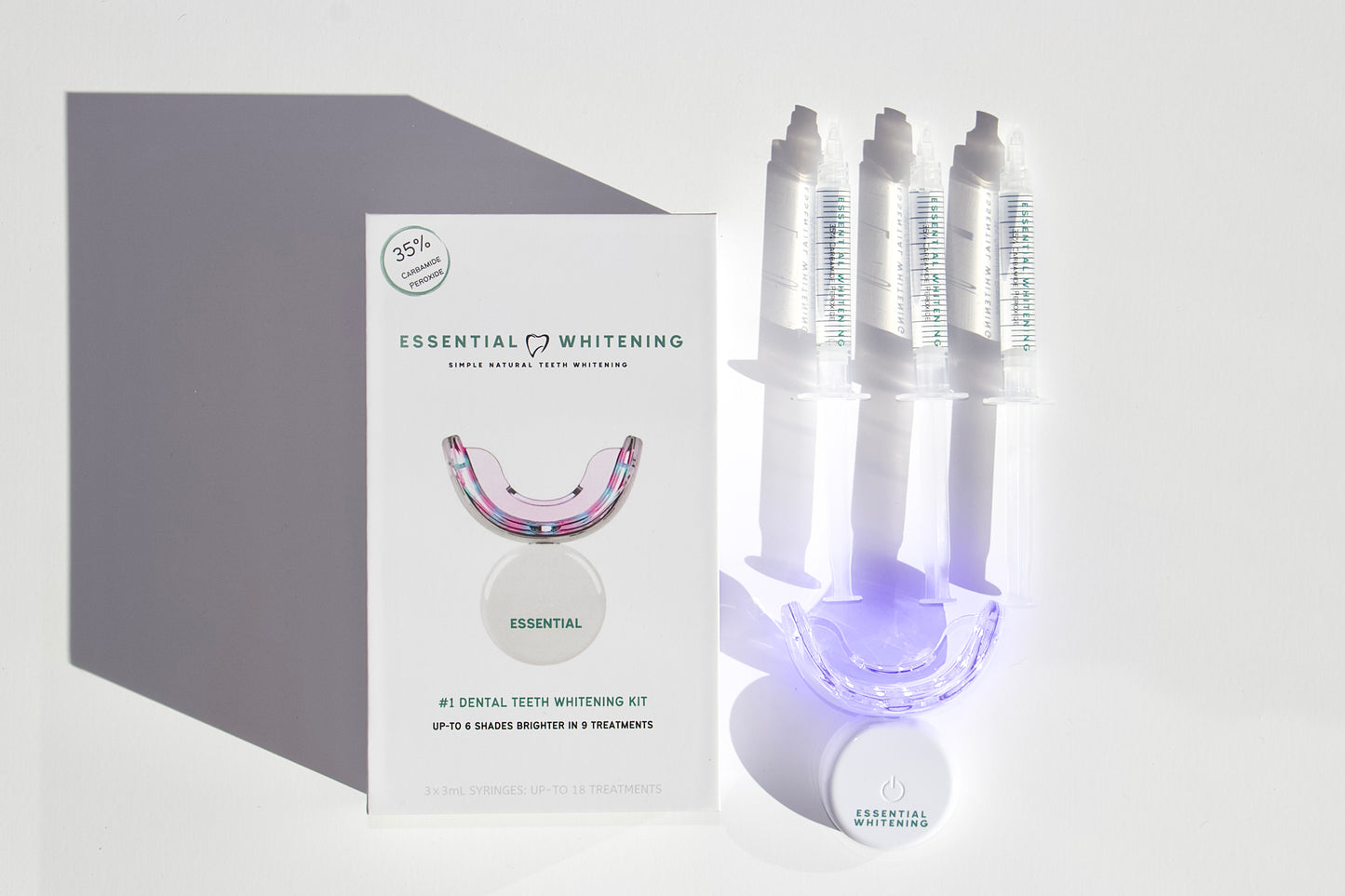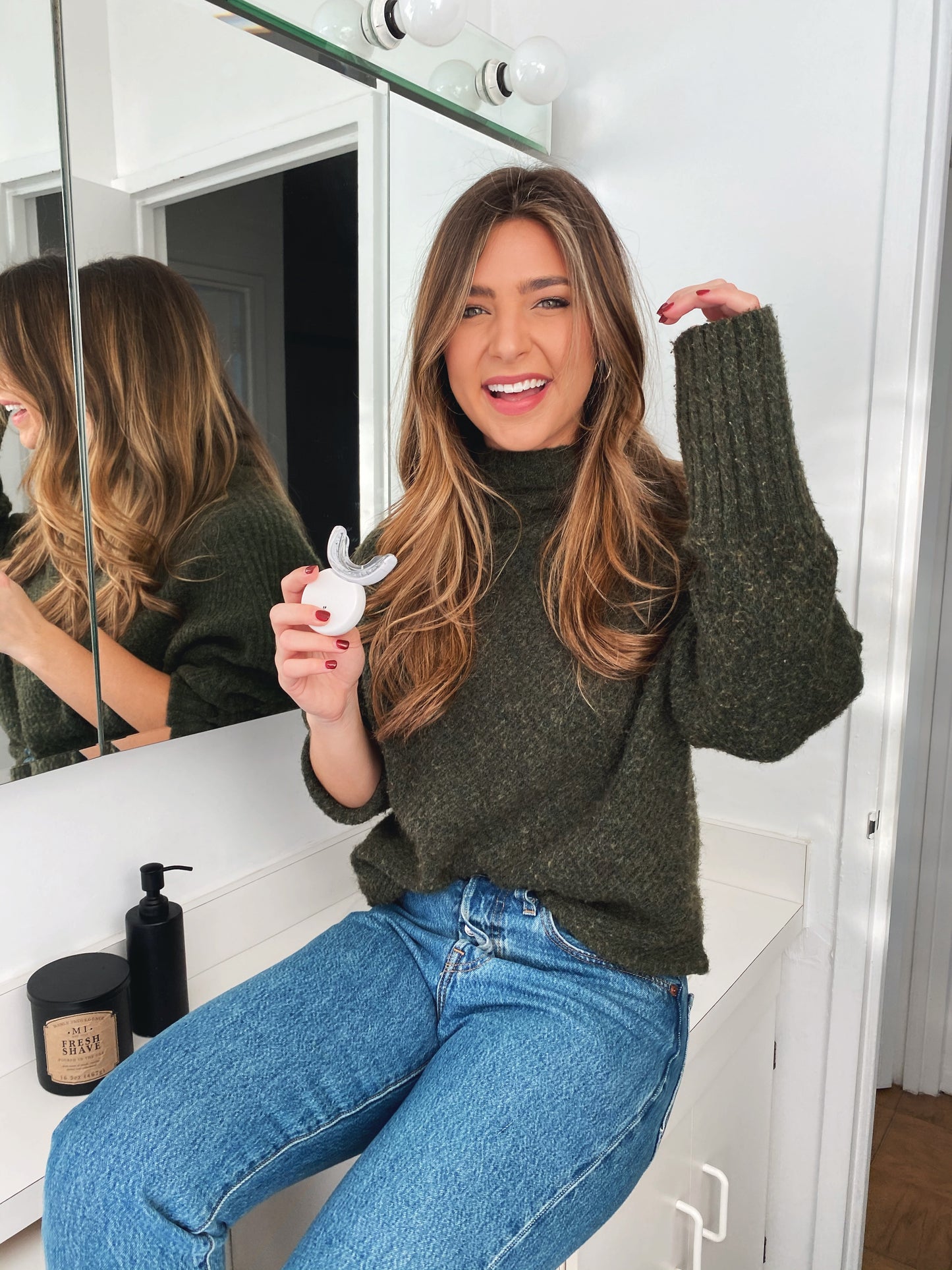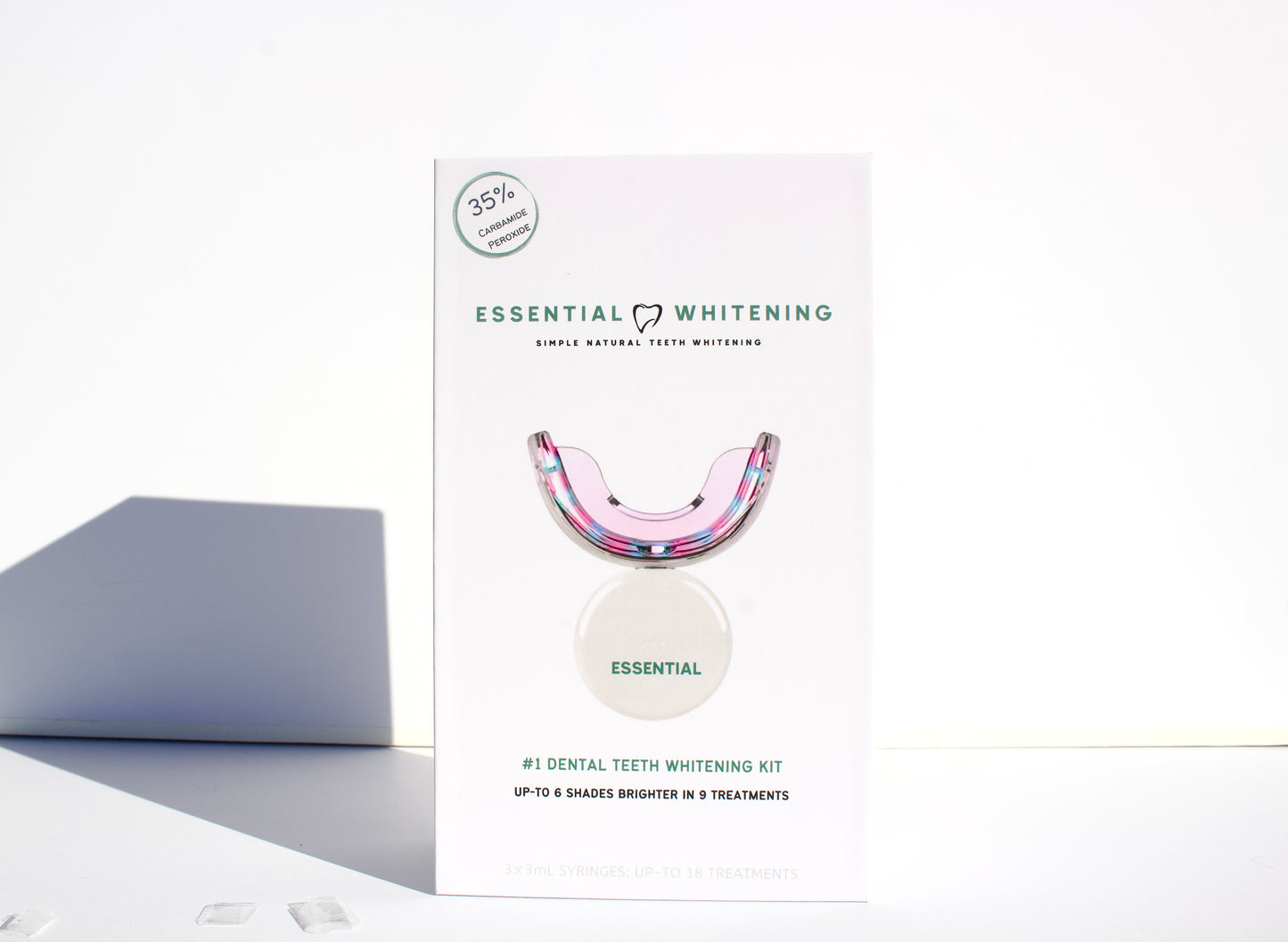 GLUTEN FREE

All products are gluten free and made in a GF facility.

DENTIST APPROVED

Our products have been tested and approved by 50+ dental professionals.

CLINICALLY PROVEN

Our formula has been clinically tested and proven to show effective results

CRUELTY FREE

Our products, formula, or ingredients are not tested on animals.
TESTIMONIALS
Jenny Hygienist

I can't say enough good things about Essential Whitening!  I am a hygienist and I didn't think it would work, well, I was wrong!!  Not only did it whiten my teeth in only 16 minutes a day for 9 days, but it also didn't cause ANY sensitivity!  I'm never using anything else again on my teeth besides Essential Whitening!

Joe Stoll / Dentist

With 20 years of experience in various dental settings, Essential Whitening is one of the best whitening products I have used. Extremely simple for patient use and super effective. We have had no reports of sensitivity with the product. All my staff have now taken the product home and love it! Yuri is great to work with. He is at our office answering questions, delivering products, or helping with anything we need...same day!! Cannot recommend it highly enough! Love Essential Whitening products!

Brooke / Patient

I have used Essential Whitening products religiosly for over 8 months now and I cannot be any more happier with my decision to purchase this product from my dentist. I have seen incredible results from the intial take-home kit and then once I started my 2nd round with the refills I saw even better results that are lasting me a long time. I am happy with having almost no sensitivity with this product, and love that it is super user friendly!