DENTAL PRACTICES, CONTACT US FOR WHOLESALE PRICING
2 Steps. 9 Treatments. 6 Shades Brighter
Introduce yourself to a brighter, more confident smile with our Take-Home Whitening Kit, the ultimate solution for achieving professional-grade whitening results in the comfort of your own home. Our kit includes everything you need for a complete whitening process, with nine consecutive 15-minute treatments.
Our kit includes three syringes filled with an all-natural, professional-grade whitening formula that is specially formulated with Carbamide Peroxide and Potassium Nitrate, a natural ingredient known for reducing tooth sensitivity or discomfort. The universal LED light mouth tray is designed to fit 90-95% of users, ensuring a comfortable fit for all. And with guaranteed use of up to 4 years, before replacement is recommended, you can be sure that your investment will last.
Our patented system uses 32 blue and red LED lights to accelerate the whitening process, resulting in faster and more effective results with reduced discomfort or sensitivity. Say goodbye to messy strips and uncomfortable trays, and experience a new and improved whitening treatment in the comfort of your own home. Our formula is specifically designed to minimize sensitivity, with increased Potassium Nitrate to counteract the peroxide.
Don't let pain and sensitivity hold you back from achieving the smile you've always wanted. Our Take-Home Whitening Kit guarantees noticeable results with minimal discomfort, making it the perfect choice for those looking for an efficient, effective, and professional whitening solution. Find one of our partnered dental clinics near you using the map on our home page, or contact us for purchase options if you live outside of CO. Start your whitening journey today with our Take-Home Whitening Kit and take the first step towards a more confident, radiant smile!
Instructions

Step 1: Give your mouth a good brush for 2 minutesStep

2:Take out the mouthpiece and make sure it is dry

Step 3:Take out one of the syringes. Apply .5mL on top of the mouthpiece and .5mL on the bottom. Apply on the wall of the tray right where your teeth will be

Step 4:Insert the mouthpiece, turn the power button for blue light, and whiten for 16 minutes (built-in self-timer)

Step 5:Once you hear a beep, you can take it off and rinse your mouth with water. Leave the tray out so it can dry

Repeat the treatment for 9 consecutive days for maximum results! If you start feeling pain or sensitivity make sure to give yourself 1-2 days of break. Always remember to start slow, this means if you feel sensitivity with your first try, apply less gel and gradually increase with every use.
How To Charge The Tray

After every 3-5 treatments your mouth tray will start flashing, indicating that it needs a charge. Every whitening kit comes with a USB charger. Pull out the charger and connect it to a USB port. Connect the (tooth shape) charger to the back of the mouth tray, it is a magnet so it will attach easily. Your tray is only charging when the light is flashing the entire time. It takes approximately 30-45 minutes for the tray to fully charge. The light will stop flashing once the tray is at it's 100%. We recommend charging your tray every two treatment so that way your tray is ready to be used in your next treatment. If there are any issues with the charge please contact us or the dental clinic you purchase the kit from.
How is Essential Whitening Different

Essential Whitening started back in 2016, we were one of the first comapnies to create a take-home whitening system that is light activated. Our biggest difference is our formula which consists of carbamide peroxide and potassium nitrate. The reason we chose these 2 active ingredients is because research shows that they are a strong candidate for producing less sensitvity and discomfort than any other whitening ingredients. In addition, our products were developed through feedback and actual issues millions of people go through during their whitening experience. Our focus from day one has always been to enhance the experience of a dental staff and their patients by providing a user friendly system that provides great results with as little to no sensitvity or discomfort. We believe we achieved that but are constantly working to find even better solutions.
What's Included In The Kit

1 x Universal blue light tray
1 x USB Charger
3 x 35% Carbamide peroxide Syringes (up to 18 treatments)
1 x Manual with instructions
1 x Shade Guide to track your progress
View full details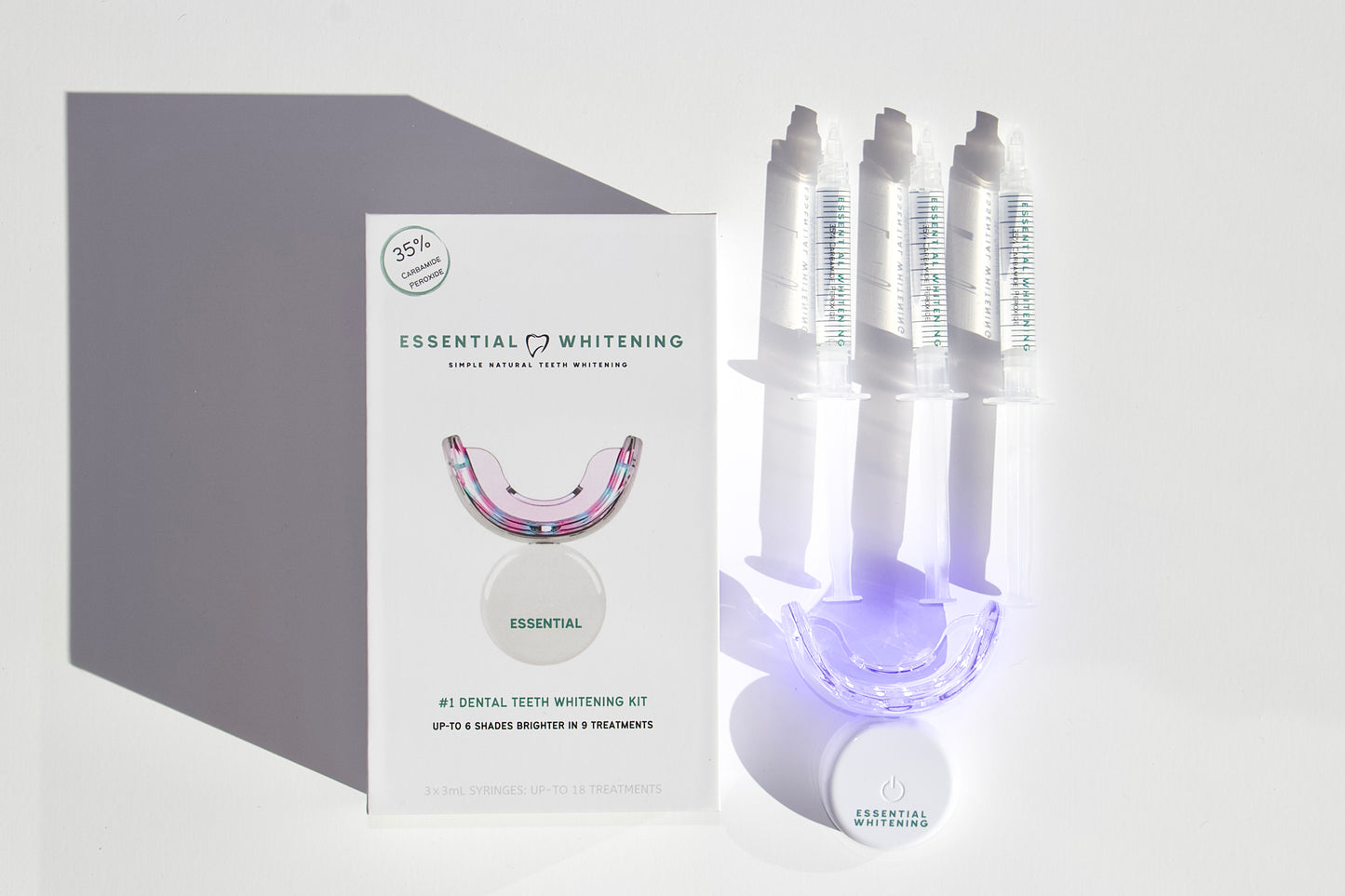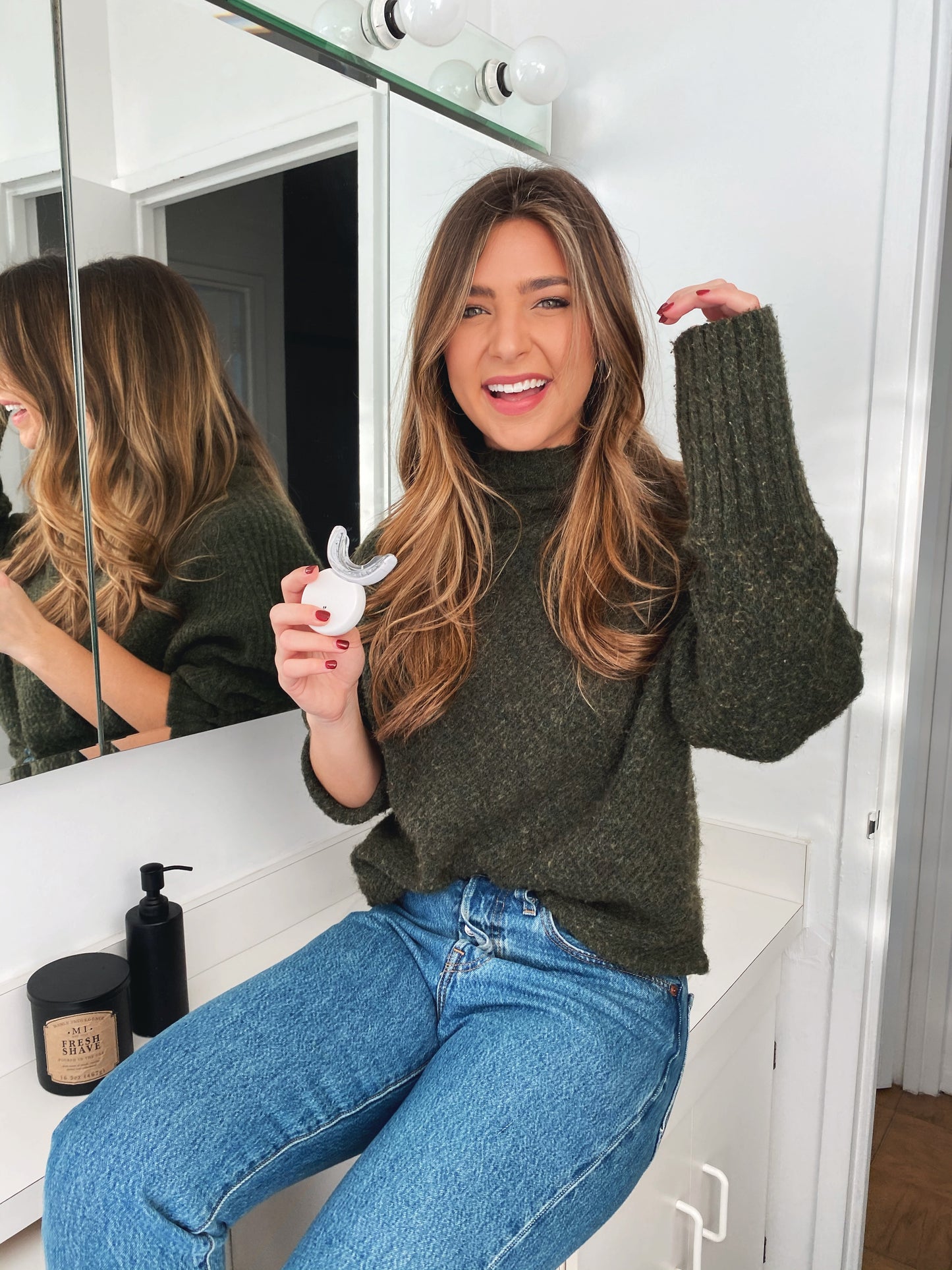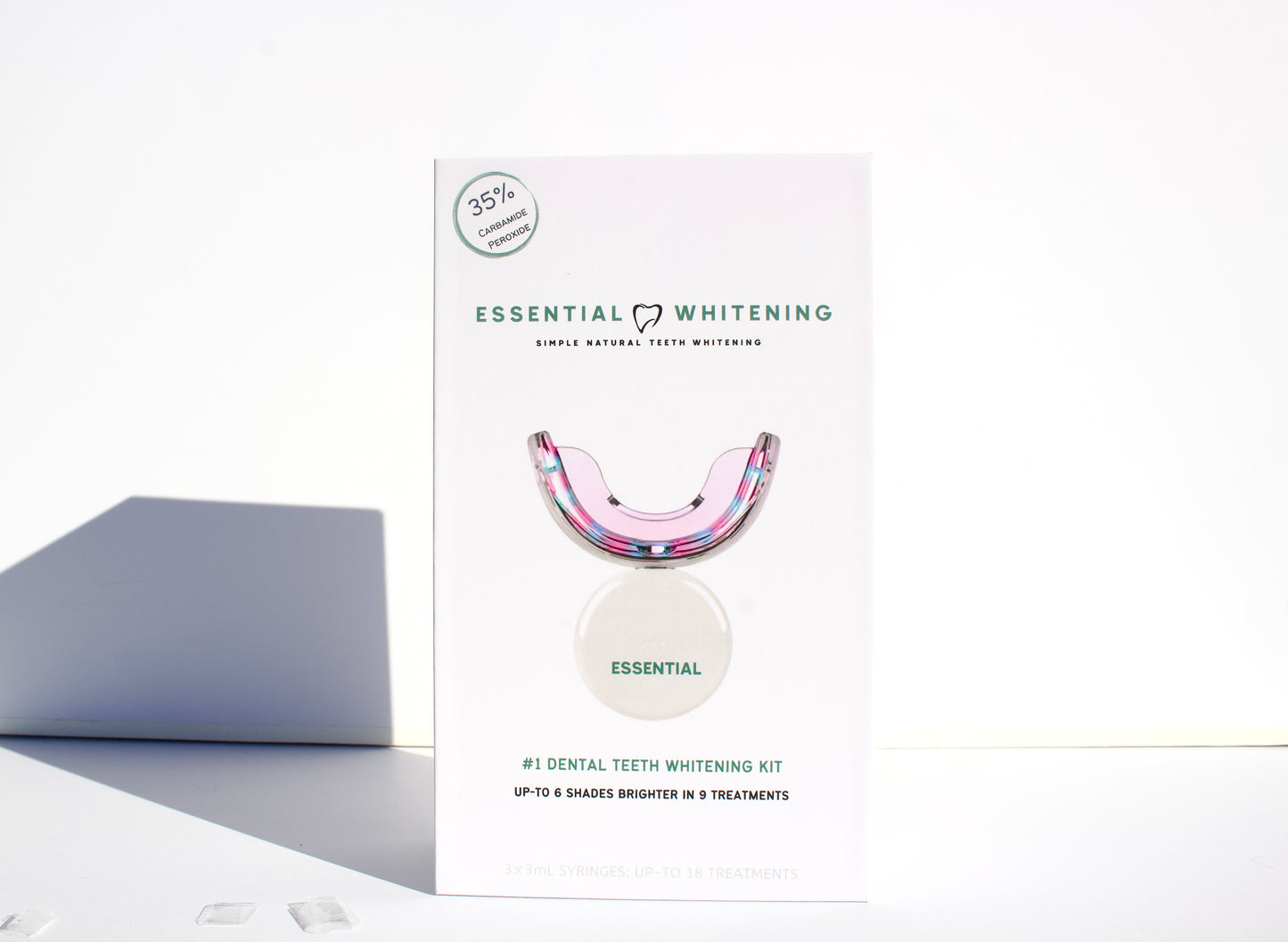 TESTIMONIALS
Amber T.

"I have always had so much sensitivity with whitening products so going into trying this product I was a little nervous. Let me tell you, I have been using Essential Whitening for 2 years now and I have no sensitivity and I constantly get great results!"

Shaquille S.

"I am on my 5th treatment of Essential Whitening and I am seeing really good results already with no sensitivity or any discomfort with the product. I have 4 treatments left and looking forward to seeing my results once I am done!"

Janet R.

"I am a hygienist and have been in the dental field for over 20 years. I started using the take-home kit about 2 months ago and I am so impressed with the results and the overall experiece! I have never come across anything as good as Essential Whitening!"

Adam V.

"I have tried so many different whitening products from the internet or over the counter. I am so happy that I finally found something that works! I am very sensitive to whitening and usually don't see results with other products. I saw results after the 3rd treatment and had no sensitivity!"