DENTAL PRACTICES, CONTACT US FOR WHOLESALE PRICING
Introduce your patients to the future of whitening with Essential Whitening, the innovative in-office whitening solution designed to meet the needs of both dental clinics and patients. Our product is the outcome of extensive research and surveys aimed at addressing the pain, discomfort, and sensitivity commonly associated with traditional chairside whitening procedures.
Our exclusive formula, which features a powerful blend of 44% Carbamide Peroxide and 5% Potassium Nitrate, delivers stunning whitening results while minimizing sensitivity symptoms. The one-hour chairside treatment is quick, efficient, and perfect for busy patients. The kit comes with a universal LED-activated mouth tray that fits 95% of patients, eliminating the need for custom tray creation.
With Essential Whitening, patients can expect up to 6 shades brighter results, thanks to our unique formula and advanced LED technology. The kit includes one 35% CP syringe, desensitizing pen, and a charger that the patient will take home for future touch-ups, ensuring a long-lasting, dazzling smile. Say goodbye to pain, discomfort, and sensitivity associated with traditional chairside whitening and give your patients the confidence of a radiant, white smile with Essential Whitening. Upgrade your in-office whitening options today!
Chairside Directions

Place the retractor then follow the steps to place cotton and gauze to block off cheek tissue.
Start to apply the gum barrier included in the kit, all exposed dentin and tissue should be covered by barrier material. There should be "No Pink" tissue showing before placing the whitening gel.
The whitening gel should be taken out of the refrigerator 1 hour before use. Apply the room temperature whitening gel onto the teeth evenly, Remember there are (3) 15-minute sessions, use the measurements on the syringe to apply 1mL per session.
Insert the Essential Whitening LED mouth tray and move it around to make sure the gel is covering all of the tooth surfaces. Hold the power button for 1 second for the blue light. (Make sure the patient doesn't open their mouth too wide.)
The light will beep 3 times once the 15 minutes have passed by. After each session, use a surgical suction to clean off any gel left on the surface of the teeth and the mouthpiece.
Check-in with the patient intermittently to see if they want to continue to the next cycle.
Check to make sure the barriers are in place. Replace or add more barrier material if needed.
Apply fresh whitening gel to the teeth and start the second cycle.
During cycle 3, the assistant should try to stay in the room. This is the cycle where patients could begin to experience some sensitivity. If this happens, they should consider ending the whitening procedure and following the sensitivity protocol.
Post-op Patient Instructions

Once you have completed the in-office treatment, send the patient home with the following material that comes in the kit: 1x LED tray, 1x USB charger, 1x desensitizing pen for any sensitivity, 1x 35% Carbamide Peroxide. Please let the patient know to apply the desensitizing gel for 5 minutes if they are having any sensitivity They can twist the bottom and brush on the blue gel on their teeth, and after 5 minutes they can rinse it with water. You can close your mouth and just rest for 5 minutes, you do not have to use the light for this treatment

Please advise the patient to use the 35% syringe for touch-ups and maintenance starting 1 week after the in-office treatment. The patient should do 1-2 treatments per week or until the entire syringe is used up. We suggest for the patient take a break and come back 4 months later for a refill kit to resume their maintenance work. They should use the entire box within a three-month span, which should be about 1-2 treatments per week. Then take another 4-6 months before doing more maintenance work.

Directions for at-home use for Patients

Step 1: Give your mouth a good brush for 2 minutes

Step 2: Take out the mouthpiece and make sure it is dry

Step 3: Take out one of the syringes. Apply .25mL on top of the mouthpiece and .25mL on the bottom. Apply on the wall of the tray right where your teeth will be

Step 4: Insert the mouthpiece, Hold the power button for 1 second for blue light, and whiten for 15 minutes (built-in self-timer)

Step 5: Once you hear a beep, you can take it off and rinse your mouth with water. Leave the tray out so it can dry

Repeat the treatment for 9 consecutive days for maximum results! If you start feeling sensitivity make sure to give yourself a 1-2 day break. Always remember to start slow, this means if you feel sensitivity on your first try, apply less gel and gradually increase with every use. If your gums burn after the first treatment try to apply gel during your next treatment We hope you enjoy your whitening experience!
How Does The Charger Work

After every 3-5 treatments your mouth tray will start flashing, indicating that it needs a charge. Every whitening kit comes with a USB charger. Pull out the charger and connect it to a USB port. Connect the (tooth shape) charger to the back of the mouth tray, it is a magnet so it will attach easily. Your tray is only charging when the light is flashing the entire time. It takes approximately 30-45 minutes for the tray to fully charge. We recommend charging your tray every two treatment so that way your tray is ready to be used in your next treatment. If there are any issues with the charge please contact us or the dental clinic you purchase the kit from.
What's Included In The Kit

1 x Universal blue light tray & Charger
1 x 44% Carbamide peroxide Syringe
1 x 35% Carbamide peroxide Syringe
1 x Gum barrier for isolation
1 x Vitamin E swabs
1 x Cheek retractor
1 x Desensitizing pen
View full details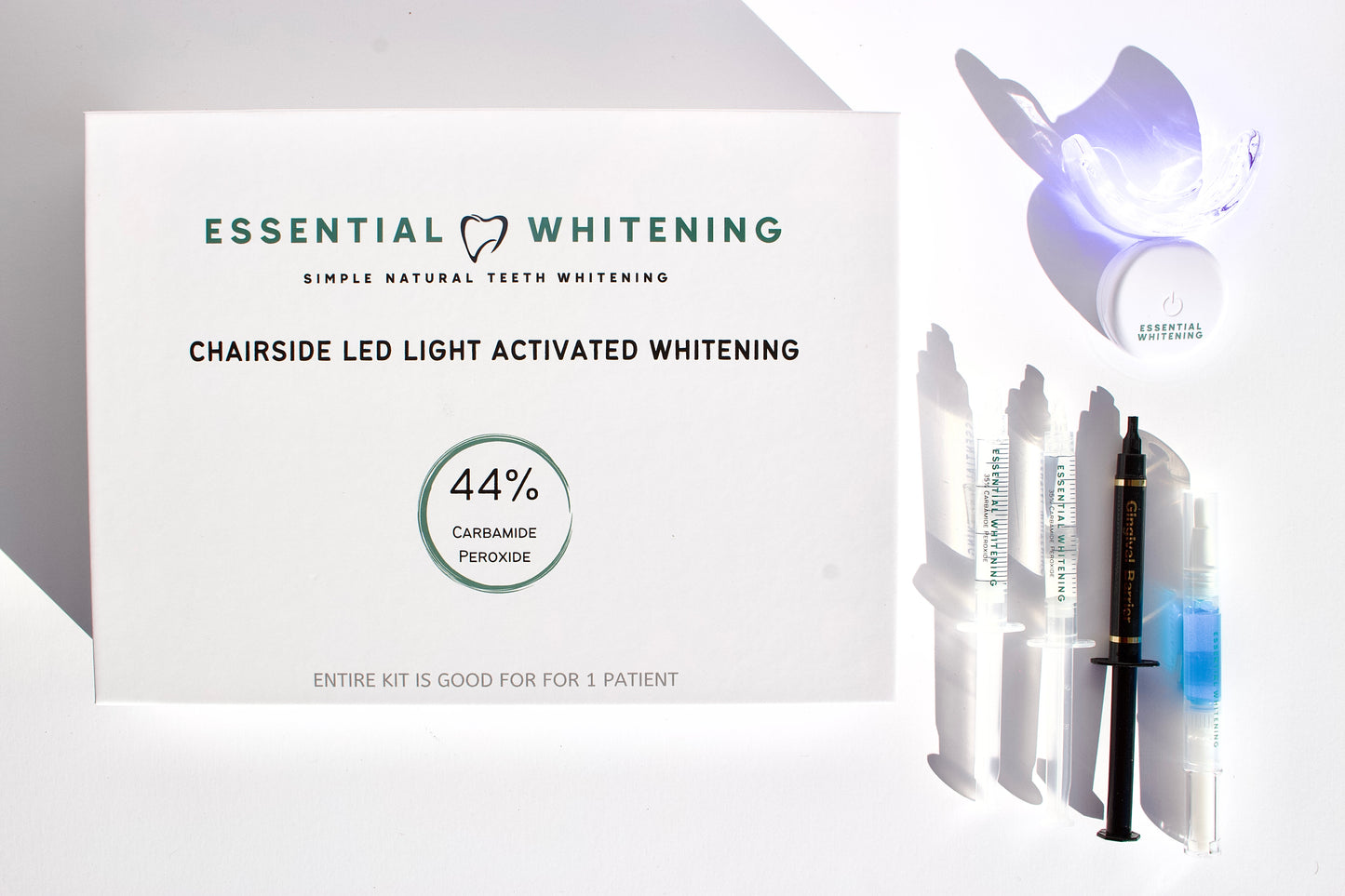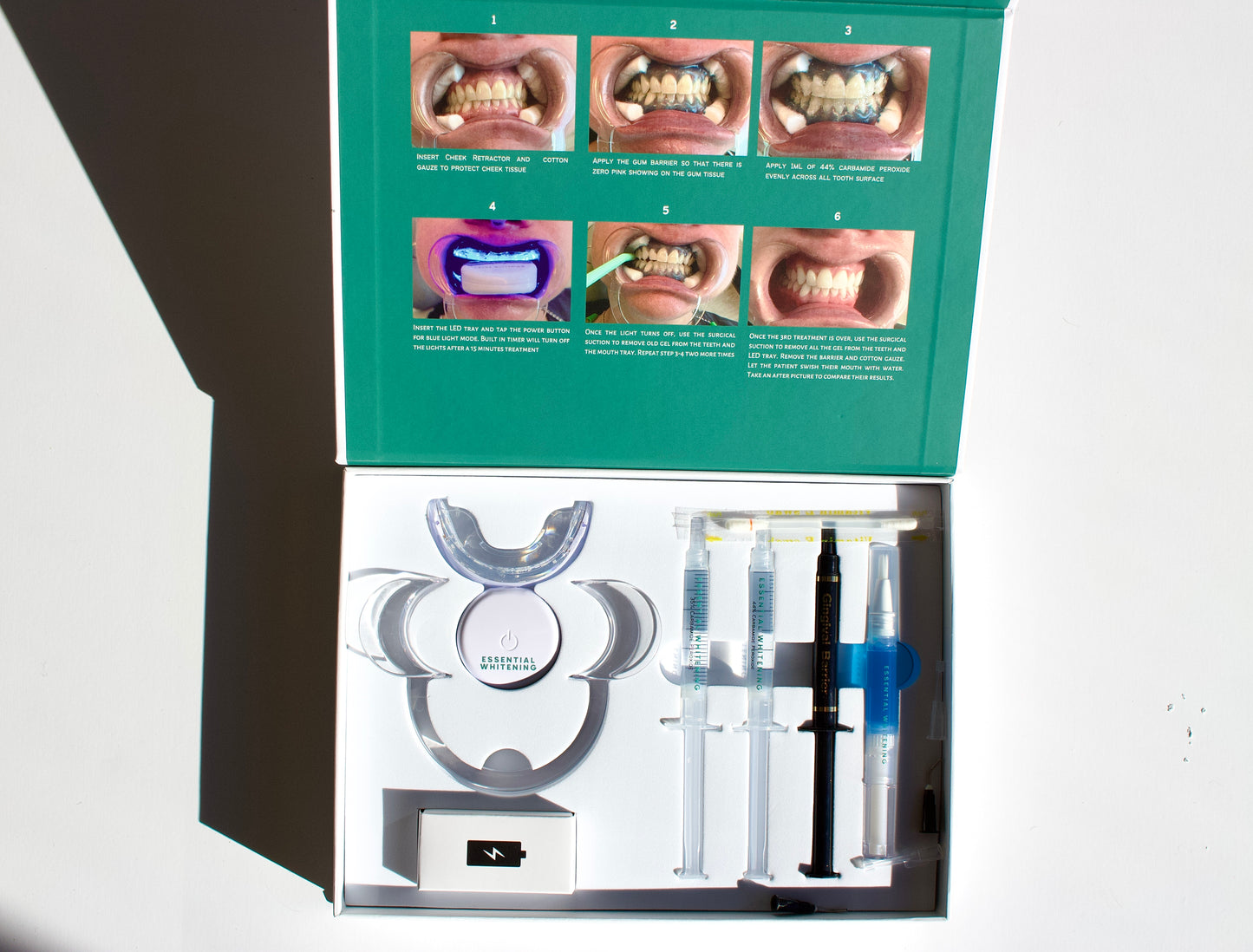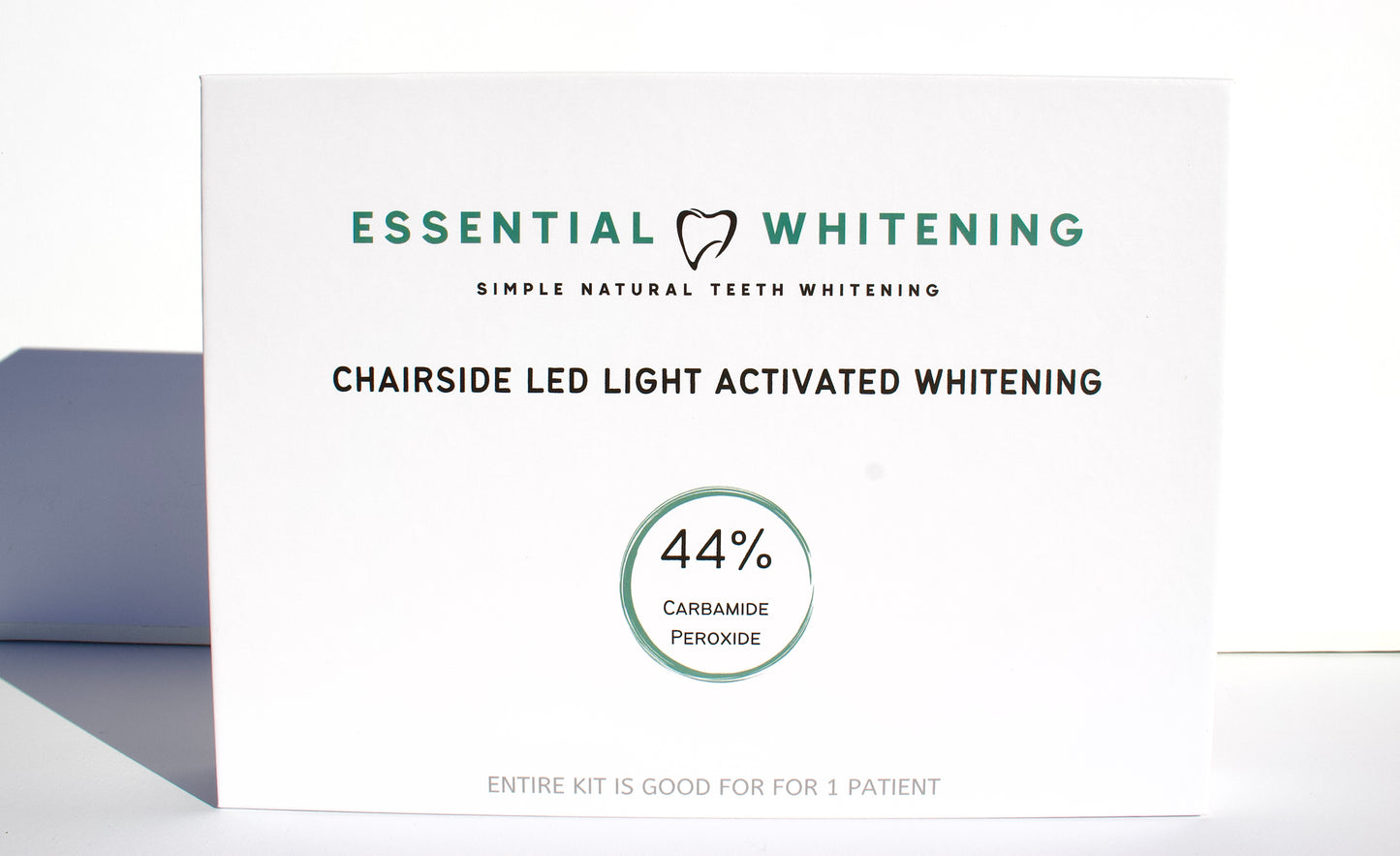 TESTIMONIALS
Amber T.

"I have always had so much sensitivity with whitening products so going into trying this product I was a little nervous. Let me tell you, I have been using Essential Whitening for 2 years now and I have no sensitivity and I constantly get great results!"

Shaquille S.

"I am on my 5th treatment of Essential Whitening and I am seeing really good results already with no sensitivity or any discomfort with the product. I have 4 treatments left and looking forward to seeing my results once I am done!"

Janet R.

"I am a hygienist and have been in the dental field for over 20 years. I started using the take-home kit about 2 months ago and I am so impressed with the results and the overall experiece! I have never come across anything as good as Essential Whitening!"

Adam V.

"I have tried so many different whitening products from the internet or over the counter. I am so happy that I finally found something that works! I am very sensitive to whitening and usually don't see results with other products. I saw results after the 3rd treatment and had no sensitivity!"