DENTAL PRACTICES, CONTACT US FOR WHOLESALE PRICING
Introduce your patients to professional-grade whitening with our Whitening Refill Kit. Our 100% natural whitening formula features 35% Carbamide Peroxide and 5% Potassium Nitrate, ingredients known for reducing discomfort and sensitivity. Each kit includes three 3ml syringes, providing up to 18 treatments for long-lasting results.
Our natural formula and recommended treatment time are key to minimizing sensitivity, making our kit the perfect choice for those looking for an effective and comfortable whitening solution. The gel can be applied to a LED tray, custom tray, or retainers, making it versatile and easy to use.
Maintaining a white smile is just as important as achieving it, which is why we recommend touch-ups and maintenance every two to three months. Whether you are a daily coffee drinker or enjoy a glass of wine at night, our refill kit is the perfect solution to combat those pesky stains and keep your smile looking its best.
Most dentists recommend a three-month on, three-month off cycle with our whitening products. Use all the whitening gels in the initial take-home LED kit within 3 weeks, about 12-18 treatments, then take a three-month break. After the break, start the next cycle with our refill kits, using all the syringes within 3 months, about 1-2 treatments per week. Repeat this cycle for a year and then slowly increase the duration of the "on" months as you see fit. With our Whitening Refill Kit, you can achieve a long-lasting, radiant smile with minimal discomfort.
Instructions

Step 1: Give your mouth a good brush for 2 minutes. After you are done brushing wait 5 minutes before starting the treatment

Step 2: Take out the mouthpiece and one 3mL syringe

Step 3: Apply .25mL on top of the mouthpiece and .25mL on the bottom. Make sure to apply it on the walls of the tray where your teeth will be.

Step 4: This is a very important step, make sure you spit as much as you can making your mouth really dry. This will help with salivating

Step 5: Insert the mouthpiece, hold the power button for 1 second for blue light, and whiten for 15 minutes (built-in self-timer)

Step 6 Once you hear a beep, you can take it off and rinse your mouth with water or you can turn on the red light mode for a 10-minute treatment to improve gum health and help reduce bad bacteria. Hold the power button for 1 second then double tap for red light mode

Repeat the treatment for 9 consecutive days for maximum results
How To Charge The Tray

After every 3-5 treatments your mouth tray will start flashing, indicating that it needs a charge. Every whitening kit comes with a USB charger. Pull out the charger and connect it to a USB port. Connect the (tooth shape) charger to the back of the mouth tray, it is a magnet so it will attach easily. Your tray is only charging when the light is flashing the entire time. It takes approximately 30-45 minutes for the tray to fully charge. The tray will stop flashing once it is at it's 100% charge. We recommend charging your tray every two treatment so that way your tray is ready to be used in your next treatment. If there are any issues with the charge please contact us or the dental clinic you purchase the kit from.
What's Included In The Kit

(3) 3mL Carbamide Peroxide Syringes (up to 18 treatments)
(1) Manual
Amazing Results
View full details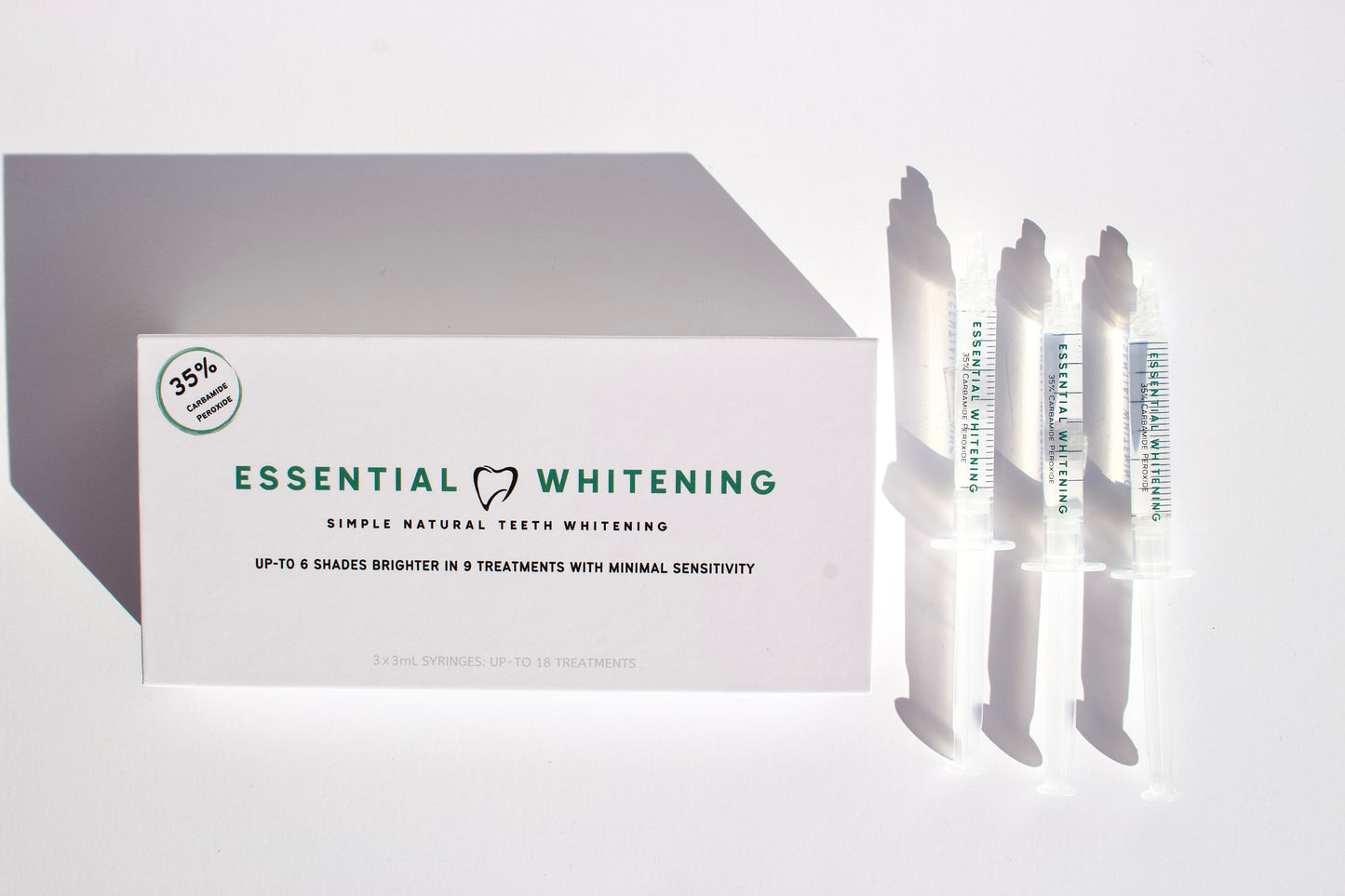 Amber T.

"I have always had so much sensitivity with whitening products so going into trying this product I was a little nervous. Let me tell you, I have been using Blue Whitening for 2 years now and I have no sensitivity and I constantly get great results!"

Shaquille S.

"I am on my 5th treatment of Blue Whitening and I am seeing really good results already with no sensitivity or any discomfort with the product. I have 4 treatments left and looking forward to seeing my results once I am done!"

Janet R.

"I am a hygienist and have been in the dental field for over 20 years. I started using the take-home kit about 2 months ago and I am so impressed with the results and the overall experiece! I have never come across anything as good as Blue Whitening!"

Adam V.

"I have tried so many different whitening products from the internet or over the counter. I am so happy that I finally found something that works! I am very sensitive to whitening and usually don't see results with other products. I saw results after the 3rd treatment and had no sensitivity!"